Jesus said, "Let the little children come to me..."
The mission of LCN's Children's Ministry is to bring children into a growing relationship with Jesus Christ. Our goal every week is to teach and guide children into what it means to follow Jesus and how to apply those characteristics and values into their daily lives. We pray that children develop a lifelong personal relationship with our Savior, loving Him with all their heart, soul, mind and strength (Mark 12:30).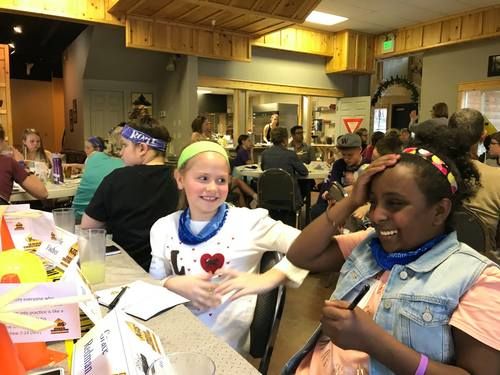 4 years through 6th grade
Our Sunday morning Children's Church takes place during the service at 9am. The children start off in "big church" with their parents for a time of praise and worship as a family, then are dismissed and led out by the Children's Ministry Team. During their time in Children's Church they will be engaging in bible stories, puppet shows, and activities to help them understand and grasp the message they are being taught. Our Sunday morning curriculum is KidsOwn Worship! Parents are welcome to join in the fun anytime.
On Wednesday evenings, our children's ministry programming (age 4-6th grade) will be using the FaithWeaver Friends curriculum. This curriculum focuses on the same Bible point, Bible story and Bible memory verse on Wednesday evening that is covered with our children's church curriculum, on Sunday mornings. The curriculum takes the lessons deeper, offering students the opportunity to apply the lesson through projects, games, and application activities. There will be separate sessions for the older and younger students.
Even at the youngest ages, we believe in partnering with parents in introducing their children to Jesus. Childcare is provided for children ages 0 - 3 years during our Sunday worship service. Here at LCN, we provide a safe environment for children where all of our volunteers have been properly screened. Our terrific staff loves kids and looks forward to helping them learn more about Jesus!
We take the safety of children seriously at LCN, and this system allows parents/guardians to
specify information about allergies as well as who is authorized to pick up children. If you haven't registered your children yet, you can do the registration at church on Sunday mornings, or you can register your children using the KidCheck App on your smart phone. Please see the KidCheck attendant on Sunday mornings if you have any questions.
If you would like more information about our Children's Ministry or have questions/concerns feel free to fill out this form.